« Previous
Next »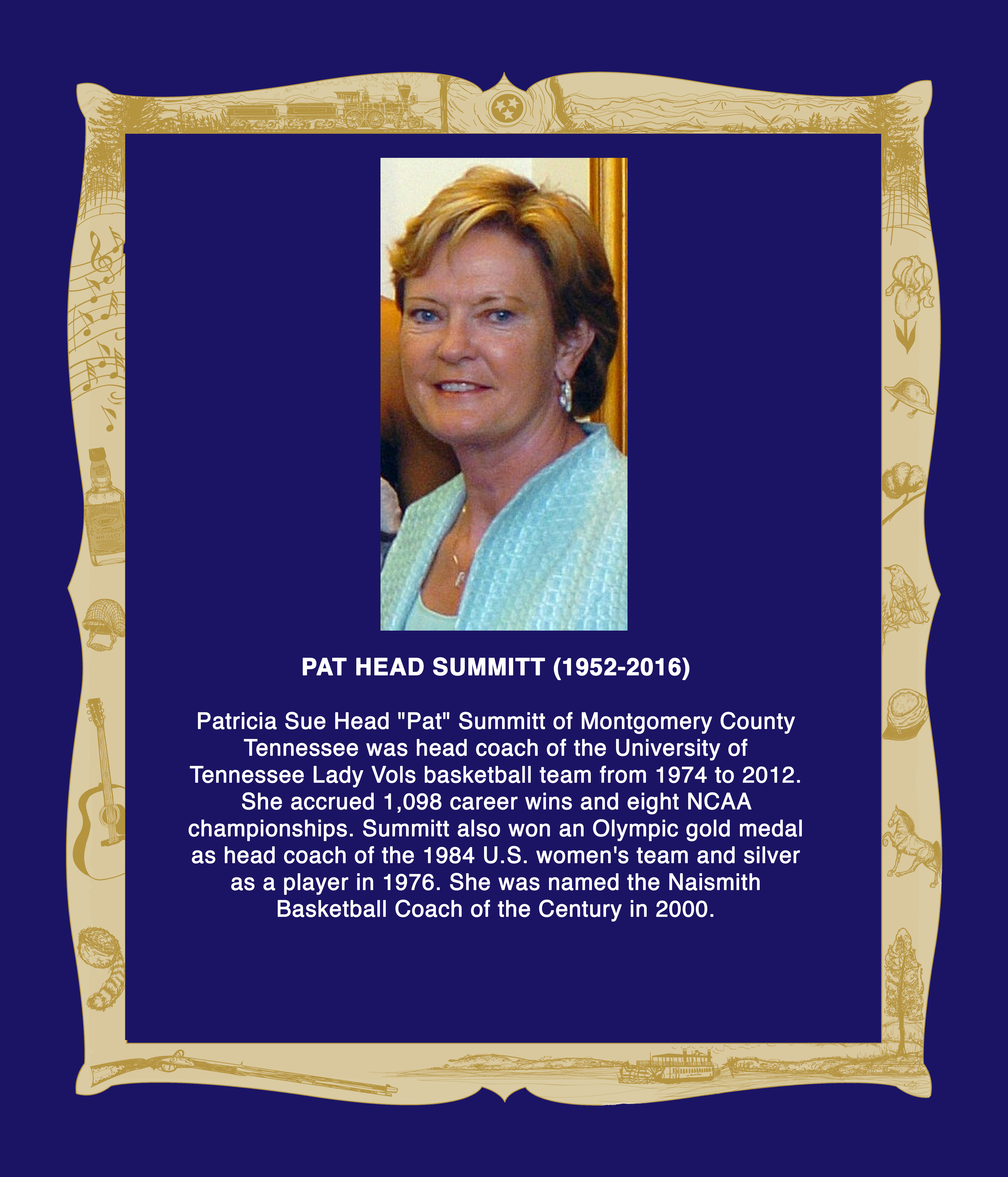 (Click Image to Expand)
×
By Carroll Van West, Middle Tennessee State University

Pat Summitt, women's basketball coach at the University of Tennessee, Knoxville, has produced an enviable record of success both on and off the court. Born in Henrietta on June 14, 1952, she attended and graduated from Cheatham County High School in Ashland City and then received her B.S. in physical education from the University of Tennessee at Martin in 1975. The following year, she received her master's in physical education from the University of Tennessee, Knoxville.

Summitt enjoyed a successful basketball career as a player at UT-Martin and in international competitions. She was on the 1975 U.S. World Championship team, and at the 1976 Olympics in Montreal she and the U.S. team won the silver medal. But as a coach, Summitt has no equals in Tennessee sports history. Already her teams at the University of Tennessee, Knoxville, have won seven NCAA championships and she has won over 700 games in 26 years of coaching. Her combined record is an impressive 625 wins versus 143 losses in 23 years of coaching. Her international coaching record is 63-4 and in 1984 she coached the U.S. team to the gold medal at the Olympic Games in Los Angeles. In all of college basketball history, only legendary UCLA coach John Wooden has won more NCAA championships (10). She has appeared in the same number of Final Fours as Wooden (12). Only Texas's Jody Conradt with 697 wins ranks ahead of Summitt among women college basketball coaches. Summitt has won the Naismith College Coach of the Year Award three times, and in 2000 she was named the Naismith Coach of the Century. Also in 2000, Sports Illustrated ranked Summitt as number two in its list of the fifty greatest sports figures in Tennessee during the twentieth century. She was inducted in the Basketball Hall of Fame in 2000.

Summitt [was] extremely active in community affairs and as a spokesperson for the university as well as women's athletics. She [took] pride in the graduation rates and careers of her players. A member of the Women's Sports Foundation Hall of Fame, she [was] on the board of directors of the Women's Basketball Hall of Fame in Knoxville. She [was] married to R. B. Summitt and they have a son, Ross Tyler Summitt. Editor's Note. She died in 2016.

Copyrighted material from The Tennessee Encyclopedia of History and Culture, courtesy of the Tennessee Historical Society.